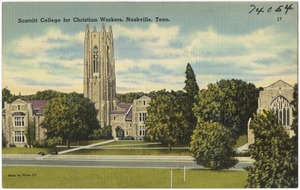 Integration at Scarritt College, 1952/4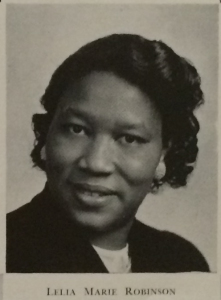 By 1942, the Scarritt College administration and the Methodist Woman's Missionary Council had already attempted to integrate the school's student body and admit black students. The college tried to make itself an exception to Tennessee's strict segregation laws on the basis of its "international clientele and missionary purpose", but to no avail. During this time of continued segregation, Scarritt College maintained close relationships with black colleges Fisk University and Tennessee A and I.
In 1952, Scarritt's Board of Trustees voted to change its policy regarding black students, encouraged by faculty members such as anthropology professor and race relations advocate Dr. Ina Corinne Brown.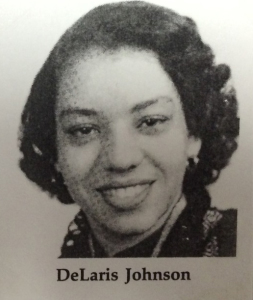 In September 1952, Lelia Robinson and DeLaris Johnson entered the college as the first full-time black students, making Scarritt one of the first predominately white private colleges in Tennessee to be desegregated. Integration at Scarritt forced the nearby renowned Vanderbilt University to reconsider its policies on race and integration, seeing as Scarritt and Vanderbilt were strongly affiliated through the Joint University Center and Library in Nashville at that time. Throughout their time at Scarritt, Scarritt's first black students were leaders in Scarritt life. Lelia Robinson served as editor of the school yearbook, the "Scarritt Archway," and sang in the "Scarritt Singers." DeLaris Johnson was Treasurer of the student council and leader in the Devotional Life committee.
A picture of the 1954 commencement appeared in a local newspaper showing the graduate processional with Robinson and Johnson in cap and gown. Part of the Nashville community was aghast and for a few days Scarritt was busy with phone calls stating "You can't do this!" The president's secretary had a good deal of satisfaction in being able to reply many times over, "We've already done it!"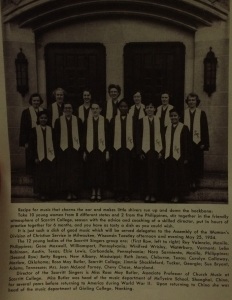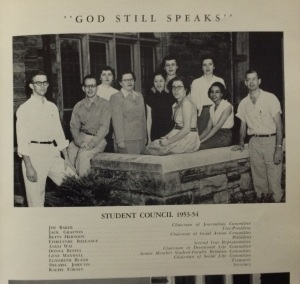 Photos: "Scarritt Archway," 1954. Scarritt Archives at Laskey Research Library, Scarritt Bennett Center.