Art Exhibit: "One Song for Three Journeys"
January 12, 2022 @ 9:00 am

–

March 29, 2022 @ 4:00 pm

CST

Free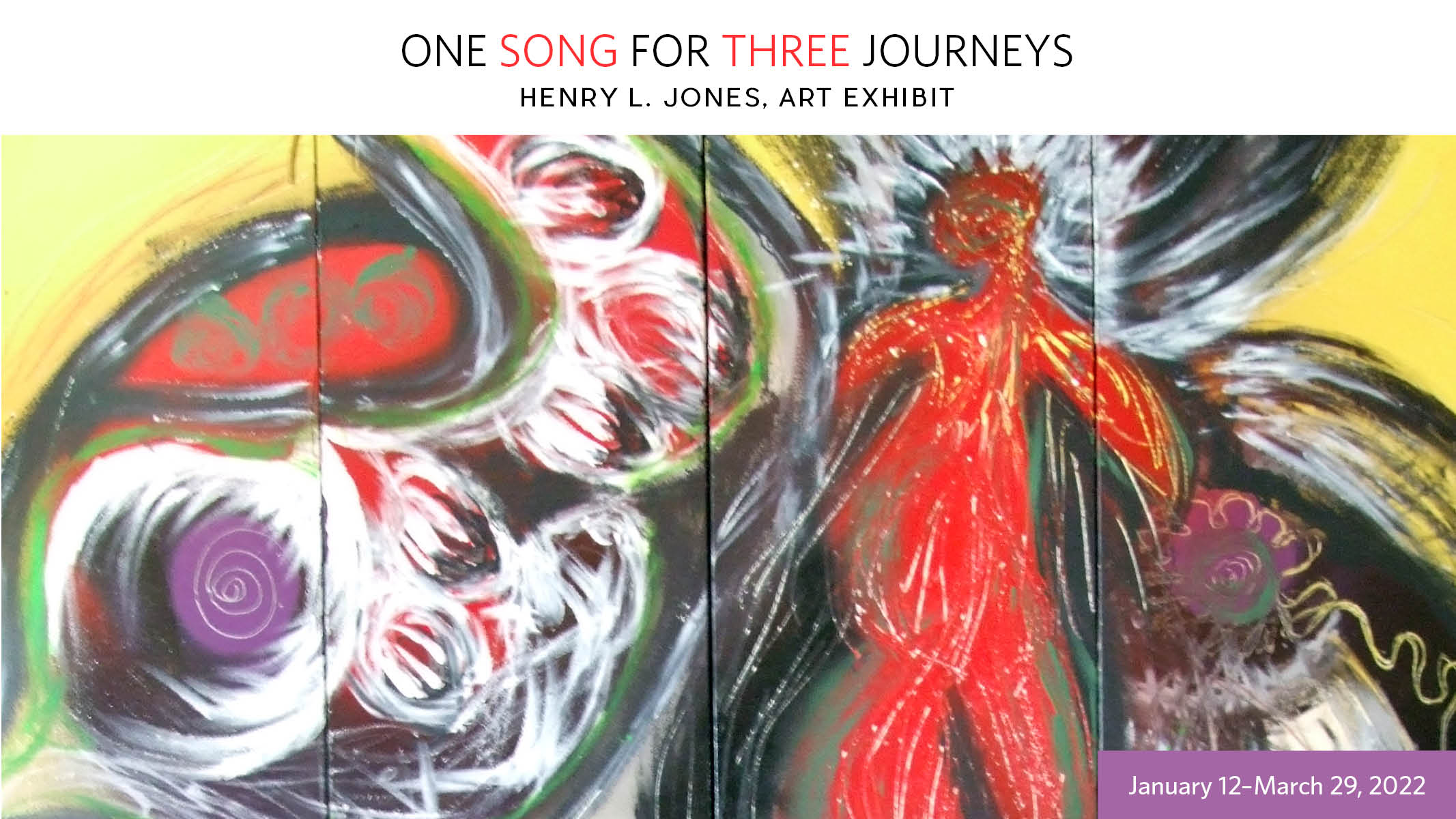 Join Scarritt Bennett Center for our premier 2022 art exhibit,
"One Song for Three Journeys," by Henry L. Jones
"One Song for Three Journeys" by Henry L. Jones is a series of 30 abstract paintings of images that explore thoughts, feelings, and ideas flowing along three journeys. Jones painted these images with his Gib Art technique. 
Journey One: The Pursuit of Wholeness
These paintings portray realms of healing and rebirths while overcoming obstacles and setbacks. These paintings symbolize stories shared as lyrics sang.
Journey Two: The Connection of Identity
These paintings delve into subjects of self-love, mirrored inner images and cultural connections. They show unfolded beauty and self-narration. These paintings describe the unveiling of acceptance as a praise in the song.
Journey Three: The Desire for Global Reaching
These paintings are images of interweaving layers of the other journeys. The last path is a bridge which unites the others. The bridged paintings reflect the melody translated as a single whole note. It's circular symbolism and literal meaning of wholeness of the song vibrates.
"Like done in my griot heritage," Jones reflects, "my art is storytelling with images. I desire to sing all those stories as art in 'One Song for Three Journeys'."
The exhibit will be on display in Laskey Gallery at Scarritt Bennett Center January 5, 2022, through March 29, 2022. The exhibit is free and open to the public.
DETAILS
Exhibit Dates: January 12–March 29, 2022
Gallery Hours: Monday–Friday, 9am–4pm
Evening with the Artist: February 11, 6pm CST (learn more)
Location: Laskey Gallery at Scarritt Bennett Center (campus map)
Cost: free and open to the public
For questions about this exhibit, contact Sue Bock, Gallery Coordinator, at [email protected]. For your safety and the safety of others, Scarritt Bennett Center requires that all visitors, regardless of vaccination status, wear a mask while indoors on our campus.