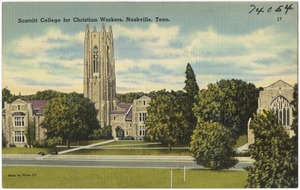 Campus Grill Boycott, 1963
In 1963, the sit-in movement continued in Nashville with dynamic student leadership from the Student Nonviolent Coordinating Committee. Scarritt College had been integrated for over 10 years, longer than any other predominantly white college in the area. Scarritt had students from all over the world, hosting many international students on scholarship. Two major events involving some of Scarritt's international students in 1963 catalyzed student activism. In the spring of 1963, Lorine Chan, a Scarritt College student from Fiji, was denied service at the Campus Grill, a "greasy spoon" restaurant on the corner of Scarritt Place and 21st Ave S. The manager, Melvin Putman, told her to never return. Around the same time, Rev. Abel Muzorewa and his wife Maggie Chigodora arrived in Nashville to attend Scarritt College. The local Methodist church near Scarritt College who had sponsored them refused membership to them upon their arrival in Nashville. The congregation had previously sponsored a white missionary family in Rhodesia but found Maggie unworthy of membership because she was black. The church had no black members and refused to change its policy. Rev. Muzorewa later became a bishop in Rhodesia during the conflict against the conservative white-minority government of Rhodesia, served as Prime Minister in 1979 after negotiating independence from British rule, and lead a transitional government of whites and blacks. He was succeeded by Robert Mugabe. Under Mugabe, "Zimbabwe Rhodesia" became Zimbabwe.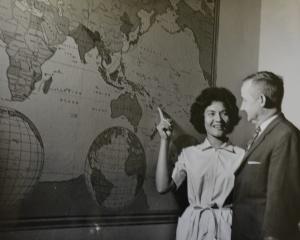 Photo: Lorine Chan, Scarritt Archives at Laskey Research Library, Scarritt Bennett Center.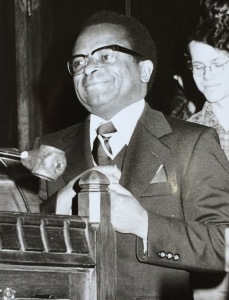 Photo: Abel Muzorewa, Scarritt Archives at Laskey Research Library, Scarritt Bennett Center.
In response to these events, Gerry Bode, Sue Thrasher, Archie Allen, Mary Pless, and others formed the Christian Action Fellowship to work against racial discrimination and joined students at Peabody College and Vanderbilt University to form the Joint University Council on Human Relations. The Joint University Council on Human Relations coordinated a boycott of the Campus Grill, coordinating with black student leaders, John Lewis and Lester McKinney. Students signed a petition and presented it to Putman in order to desegregate the establishment. He refused. Students at Scarritt, Peabody, and Vanderbilt decided to become more vigilant in the desegregation tactics, using an escalating protest format similar to what Jim Lawson had done downtown in the early 60s.
The students organized a three-phase plan and developed a leaflet (see below) to distribute that told the history of the segregated restaurant and how Lorine Chan had been discriminated against there and others after her and asked people not to patronize the establishment. John Lewis, Lester McKinney, and Archie Allen visited the Campus Grill once; Putman met them at the door and physically barred the door. First, they went through a process of negotiations to get the proprietor to change the segregation policy. When that didn't work, they escalated by educating the community and engaging in public protest. By November, Vanderbilt, Peabody and Scarritt college students and faculty organized a boycott of the restaurant until it served black students. Putman was greeted each morning by a group of protesters handing out leaflets in front of his place. They experienced harassment and hostility from Putman. Just as the organizers were about to move into the last phase of the protest, a sit-in, which would cause the Campus Grill to shut down, Putman agreed to desegregate if the demonstrations were called off. The demonstrations at the Campus Grill ended, but a few students at Scarritt had been activated and committed themselves to the Freedom Movement, organizing with SNCC and founding partner organizations like the Southern Student Organizing Committee (SSOC) to organize students on predominately white campuses to join SNCC and the Southern Freedom movement.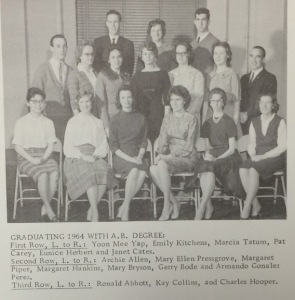 Photo: Archie Allen, Gerry Bode pictured. "Scarritt Tower," 1964. Scarritt Archives at Laskey Research Library, Scarritt Bennett Center.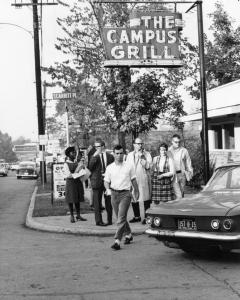 Photo: Scarritt student, Mary Pless, distributing handbills outside of the Campus Grill. 1963. Courtesy of Vanderbilt Special Collections and University Archives.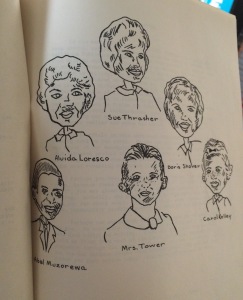 Photo: Scarritt Archives at Laskey Research Library, Scarritt Bennett Center.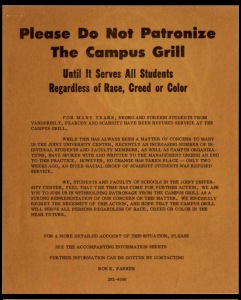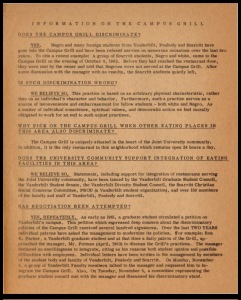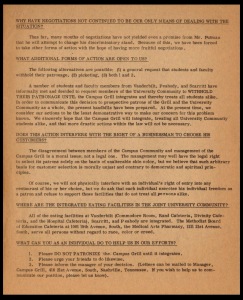 Photo: Scarritt Archives at Laskey Research Library, Scarritt Bennett Center.
Sources: 
"The Rise of Black and White Student Protest in Nashville," Jeffrey Turner, in Rebellion in Black and White: Southern Student Activism in the 1960s, Johns Hopkins University Press; 1st edition (March 20, 2013)
"Circle of Trust: Sue Thrasher," in Deep In Our Hearts: Nine White Women in the Freedom Movement, University of Georgia Press (March 18, 2002)
 Struggle For a Better South: The Southern Student Organizing Committee, 1964-1969, Gregg Michel, Palgrave Macmillan; 2004 edition (January 15, 2008)
Archie Allen's Oral History, Nashville Public Library Civil Rights Collection, Accessed: 6/14/2007
Marie Campbell is Assistant Director of Education at Scarritt Bennett Center. Marie coordinates the Belle H. Bennett fellowship, a 10-month residential program for young women discerning vocation at the intersection of social justice and spirituality. She earned a Masters of Divinity from Vanderbilt Divinity School and a B.A. in Sociology from Belmont University. Marie is passionate about cultural organizing and intersectional feminism. Contact Marie at [email protected].