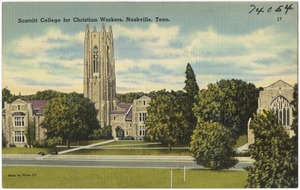 William Barbee's Story, 1964
Following the Campus Grill protest in 1963, Scarritt College students continued to participate in civil rights demonstrations. In 1964, another explosion of demonstrations happened around the downtown area. Demonstrators focused efforts on some of the establishments that refused to desegregate, including Krystal, Morrison's Cafeteria, and Tic Toc. Employees of these establishments routinely beat up on protestors, but the picket lines kept on going.
In April 1964, several Scarritt College students were arrested and attacked by white employees and police officers while participating in non-violent demonstrations outside restaurants on West End Ave. and downtown Church Street. On Church Street, Nashville policemen lined up in the streets as a large group of demonstrators, mostly college students, filled up the sidewalk. Holding a protest sign that read "This is a non-violent demonstration," Archie Allen attempted to talk with employees of the Tic Toc restaurant. Moments later, Allen was attacked by the employees and knocked down on the sidewalk.
After a short demonstration there, the group marched several blocks to Morrison's Cafeteria on West End Ave. The group gathered on the sidewalk in front of Morrison's to prepare for a sit-in, led by Lester McKinnie and John Lewis. The demonstration increased steadily in tension until protesters were attacked by police. Ten of the protesters, including Scarritt College student William Barbee, were arrested and jailed after sitting down in the middle of West End Ave, blocking the traffic as they protested at Morrison's Cafeteria.
Demonstrators returned the next day, on April 28. Metro Police Lt. Dave White waved a nightstick in the direction of a group of black demonstrators as police try to clear a path for a paddy wagon carrying arrested demonstrators on Church Street. Violence erupted when demonstrators surrounded the wagon and stretched out on the pavement to resist attempts to jail peaceful demonstrators. To clear the pavement, police beat protestors. William Barbee was viciously attacked and beaten. Police beat him while he was holding onto a light pole. He was beaten until he was on the ground, pulled himself back up, and was beaten again. Finally, he was knocked across the sidewalk.
After being beaten, Barbee was arrested for the second time in two days. He was arrested on disorderly conduct charges, wrestled into the paddy wagon, and was later admitted to Hubbard Hospital. Barbee suffered a major concussion and had medical problems resulting from the attack that stayed with him the rest of his life. At least 16 were injured and taken to Hubbard Hospital and several policemen were also injured.
One April 29, the demonstrations continued. News of police brutality against demonstrators generated an even larger response. Many white activists who had participated in the Campus Grill boycott were activated to join the movement downtown. Lead by John Lewis, national chairman of the Student Non-Violent Coordinating Committee, over 300 demonstrators marched down Broadway toward Morrison's Cafeteria at West End Ave. There, the marchers began to sit down in the middle of the street. Police officers threated violence. John Lewis was the first person of many to be arrested by the police. Arms locked, demonstrators sat in the middle of West End Avenue protesting the segregation of Morrison's Cafeteria. Moments later, the surrounding policemen moved in and carried them to waiting patrol wagons. The mass arrests came on the third straight day of anti-segregation and racial discrimination demonstrations. 76 were arrested when the approximately 300 marchers sat down in the street in front of Morrison's Cafeteria.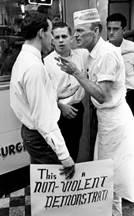 Photo: Archie Allen, Scarritt College student, left, talks with employees of the Tic Toc Restaurant on downtown Church Street. April 27,1964. Photo by Jack Corn. Courtesy of The Tennessean.
Photo: Scarritt Archives at Laskey Research Library, Scarritt Bennett Center.
Photo: Civil rights demonstrators sit in Metro jail as they are waiting to make bond. They are Lester McKinnie, left, one of the group leaders; Allen Wolfe, a Vanderbilt student; William T. Barbee, a Scarritt College student and Frederick Leonard, a student at Tennessee A&I. April 27,1964. Photo by Jack Corn. Courtesy of The Tennessean.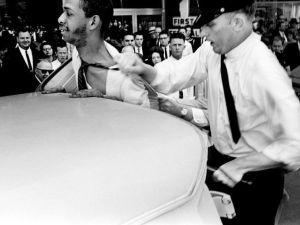 Photo: Metro police officers wrestle with demonstrator William Barbee, left, a student at Scarritt College, as they attempt to put him into the paddy wagon after his arrest on Church Street. April 28, 1964. Photo by Frank Empson. Courtesy of The Tennessean.
Sources: 
Archie Allen's Oral History, Nashville Public Library Civil Rights Collection, Accessed: 6/14/2007
The Tennessean, 1964 Nashville civil rights movement, April 24, 2013
http://www.tennessean.com/picture-gallery/news/2014/02/25/civil-rights-in-nashville-1964/5808857/?from=global&sessionKey=&autologin=
The Tennessean, Civil rights in Nashville 1964, May 22, 2013
http://www.tennessean.com/apps/pbcs.dll/gallery?Avis=DN&Dato=20130522&Kategori=NEWS01&Lopenr=305220162&Ref=PH
---
Marie Campbell is Assistant Director of Education at Scarritt Bennett Center. Marie coordinates the Belle H. Bennett fellowship, a 10-month residential program for young women discerning vocation at the intersection of social justice and spirituality. She earned a Masters of Divinity from Vanderbilt Divinity School and a B.A. in Sociology from Belmont University. Marie is passionate about cultural organizing and intersectional feminism. Contact Marie at [email protected].