Why Jazz in Worship?
Each Sunday evening there is a Vespers & All That Jazz Service here at Scarritt Bennett Center. It is a contemplative worship service with jazz music the focus of the service. A valid question that many ask is: "Why do you have jazz music in a worship service?"
Let's first compare worship and jazz:
Worship is planned, flexible, and tied to God's Word.
Jazz is structured, emotional, and a living metaphor for the human condition.
Worship involves community, is interactive and has a wide variety of languages.
Jazz is free, creative, nonverbal, and opened ended.
Worship is a journey, a mystery and inspires awe. It is sacred.
Jazz flows, is full of the texture of the soul, is always new and dynamic.
Worship is led by the Spirit.
Jazz in improvisation, also led by the spirit within the musician.
Jazz and worship are not poles apart, but share many of the same attributes. Both can challenge, comfort, teach, inspire, evoke, lull, or awaken. As the Spirit guides a service, musicians, leaders, and hearers will soon breathe and move together. They will become aware of the limitation and liberation found in the liturgy and the music.
Carlton Maaia II, our music consultant and arranger of the music used in the vesper services writes:
"I have come to realize how fitting jazz music is to contemporary religious liturgy. Musically, improvisation has been a part of many religious traditions (Jewish/Klezmer music; the African-American Gospel tradition; the great organ improvisations in the European Catholic churches and cathedrals; folk traditions from around the world;, etc.) Furthermore, jazz is music which is very personal, very expressive, very 'in-the-moment.' It implies cooperation and dialogue. It is expressive, lamenting and uplifting, and spiritual by its very nature.
The great jazz artist Bill Evans has defined jazz, not as a musical style, but as a process of making music. In other words, jazz is not about playing something 'jazzy,' but rather about creating original music, in the moment, with other people…I have found that jazz in worship will consistently engage the congregation due to the inherent fragility of the music, which only exists as it's happening, and the inherent vulnerability of the musicians involved. This is much the same as when an accomplished vocal soloist seems to sing her prayer, and express devotion on behalf of the assembled body. Likewise the successful jazz musician has the power to express wordlessly something deeply felt for everyone present."
Worship and jazz go together. Jazz in worship offers the sounds of the Spirit to our ears and hearts. Join us at Vespers & All That Jazz every Sunday. 6:30-7:15 PM.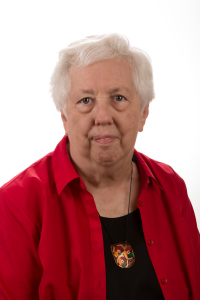 Joyce D. Sohl has been Laywoman-in-Residence since 2009 as a full-time volunteer. She retired as CEO of United Methodist Women in 2004. She is the author of 4 books, a teacher, retreat leader, writer and non-professional musician. Here at the Center her work is in the area of Spirituality & the Arts with such programs as Tuesdays in the Chapel, Vespers & All That Jazz, Poet's Corner, and quarterly retreats and art exhibits.