God's Love Is Ever With Us
[vc_row][vc_column][vc_column_text]Who will separate us from the love of Christ? Will hardship, or distress, or persecution, or famine, or nakedness, or peril or swords? As it is written, "For your sake we are being killed all day long; we are accounted as sheep to be slaughtered." No, in all these things we are more than conquerors through him who loved us. For I am convinced that neither death, nor life, nor angels, nor rulers, nor things present, nor things to come, nor powers, nor height, nor depth, nor anything else in all creation, will be able to separate us from the love of God in Christ Jesus our Lord.
~ Romans 8:35-39
We believe that God calls us to go forward. Our faith in an absolute does not immobilize us in contemplation, but invites us to discover God according to our means of creating a world inspired by his love; a world where justice dwells and where people love one another.
~ Louis Evely
O Love that wilt not let me go,
I rest my weary soul in thee;
I give thee back the life I owe,
that in thine ocean depths its flow may richer, fuller be.
~ George Matheson
Thanks be to thee, O Lord Jesus Christ, for all the benefits which thou hast given us, for all the pains and insults which thou hast borne for us. O most merciful Redeemer, friend and brother, may we know thee more clearly, love thee more dearly, and follow thee more nearly, for thine own sake. Amen.
~ Richard of Chichester (13th century)
By gracious powers so wonderfully sheltered,
and confidently waiting, come what may,
we know that God is with us night and morning,
and never fails to greet us each new day.
Yet is this heart by its old foe tormented,
still evil days bring burdens hard to bear;
O give our frightened souls the sure salvation
for which, O Lord, you taught us to prepare. Dietrich Bonhoeffer, trans. Fred Pratt Green
Paul speaks about hope and his words are gospel in the verses above….He names all the demons, all the threats to our sense of well-being, to our very lives. He lines them up in daunting fashion and then he says, in effect, "What matters finally is more profound than these or any imaginable circumstance; we are held eternally in God's care, freedom, and love because of God's saving work in Jesus Christ."
~ Paul L. Escamilla
I am possessed of a hope that is steadfast and sure, since Jesus came into my heart! And no dark clouds of doubt now my pathway obscure, since Jesus came into my heart! R.H. McDaniel
These reflections are for the week of July 19-25 and based on the scriptures for worship on July 19.
Joyce D. Sohl, Laywoman-in-Residence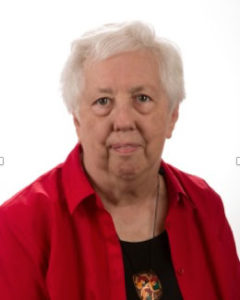 Joyce D. Sohl has been Laywoman-in-Residence since 2009 as a full-time volunteer. She retired as CEO of United Methodist Women in 2004. She is the author of 4 books, a teacher, retreat leader, writer and non-professional musician. Here at the Center her work is in the area of Spirituality & the Arts with such programs as Tuesdays in the Chapel, Vespers & All That Jazz, Poet's Corner, quarterly retreats, and art exhibits.
[/vc_column_text][vc_empty_space][/vc_column][/vc_row]