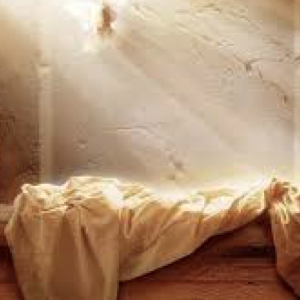 Christ Is Risen!
After the Sabbath, at dawn on the first day of the week, Mary Magdalene and the other Mary came to look at the tomb.  Look, there was a great earthquake, for an angel from the Lord came down from heaven. Coming to the stone, the angel rolled it away and sat on it. Now the angel's face was like lightning and clothes as white as snow. The guards were so terrified of the angel that they shook with fear and became like dead men. But the angel said to the women, "Don't be afraid. I know that you are looking for Jesus who was crucified. He isn't here, because he's been raised from the dead, just as he said. Come; see the place where they laid him. Now hurry, go and tell his disciples, 'He's been raised from the dead. He's going on ahead of you to Galilee. You will see him there.' I've given the message to you."
With great fear and excitement, they hurried away from the tomb and ran to tell his disciples. But Jesus met them and greeted them. They came and grabbed his feet and worshipped him.  Then Jesus said to them, "Don't be afraid. Go and tell my brothers that I am going into Galilee. They will see me there."
Matthew 28:1-10 Common English Bible
The resurrection of Jesus is not about revivification of an old life, it is about experiencing a new kind of life entirely. And no one know how it happened; we only know that is happened…The resurrection of Jesus is about coming to grips with the transformed and transforming presence of Christ then, now, and always…every tie Jesus rises in our own hearts in new ways, the resurrection happens again…Resurrection is change at the root of the soul. It marks a whole new way of being in life.
Joan Chittister
Christ is risen!
Raise your spirits from the caverns of despair.
Walk with gladness in the morning.
See what love can do and dare.
Drink the wine of resurrection, not a servant, but a friend;
Jesus is our strong companion
Joy and peace shall never end. Brian Wren
For each of us there is a "Galilee" at the origin of our journey with Jesus. "To go to Galilee" means something beautiful, it means rediscovering and drawing new energy from the sources of our faith and our Christian experience. To return to Galilee means above all to return to the light with which God's grace touched me at the start of the journey. From that light I can bring light to my brothers and sisters. That light creates a humble joy, a joy which sorrow and distress cannot dismay, a good, gentle joy. Returning to Galilee means treasuring in my heart, the living memory of that call when Jesus passed my way, gazed at me with mercy and asked me to follow him. Today each of us can ask: What is my Galilee? I need to remind myself, to go back and remember.  Lord, help me: tell me what my Galilee is; for you know that I want to return there to encounter you and to let myself be embraced by your mercy. The Gospel is very clear: we need to go back there, to see Jesus risen, and to become witnesses of his resurrection. This is not to go back in time; it is not a kind of nostalgia. It is returning to our first love, in order to receive the light which Jesus has kindled in the world and to bring that light to all people, to the very ends of the earth. Go back to Galilee, without fear. Pope Francis
I serve a risen Savior, he's in the world today;
I know that he is living, whatever foes may say.
I see his hand of mercy, I hear his voice of cheer,
and just the time I need him, he's always near.
He lives, he lives, Christ Jesus lives today!
He walks with me and talks with me along life's narrow way.
He lives, he lives, salvation to impart!
You ask me how I know he lives? He lives within my heart.
Alfred H. Ackley
Note: These reflections are for use during the week of April 12-18 and are based on the scriptures for worship on April 12
Joyce D. Sohl, Laywoman-in-Residence
Joyce D. Sohl has been Laywoman-in-Residence since 2009 as a full-time volunteer. She retired as CEO of United Methodist Women in 2004. She is the author of 4 books, a teacher, retreat leader, writer and non-professional musician. Here at the Center her work is in the area of Spirituality & the Arts with such programs as Tuesdays in the Chapel, Vespers & All That Jazz, Poet's Corner, quarterly retreats, and art exhibits.